About National Sports M.A.P.®, LLC
NationalSportsMAP.com is the ONLY sports medicine company with a mandatory background check program that ensures the safety, sports medicine and security of your organization's events, athletes, parents and coaches alike.
We offer two methods for scheduling your sport or race organization for service:
One (1) event at a time with deposit + administrative fees, and final payment at end of event, passing the cost and ad space to a sponsor
OR
Complete our Membership Application to create an organizational partnership that will:
Reduce service and administrative rates
Increase athlete registration
Increase sponsorship revenue
Build SEO/website visibility
Deliver greater social media presence
Lower insurance rates
Save your staff time and stress when planning each event!
A partnership with NationalSportsMAP.com signifies your organizational commitment to putting parents, coaches and athletes in a safe environment that we won't take lightly AND we you for putting the athlete safety first.
Membership Bonus! Offering sponsors an ability to support the sports medicine space is a bonus for both their visibility and your events Public Relations perspective at>.
Our practitioners work together to ensure a successful outcome for each athletes independent medical need.
Type of Event Coverage:
Race Event Medicine: A small to large team of sports medicine services and healthcare professionals who can cover the entire 5K/10K distance as a unit. Race event medicine requires significant sponsorship support.
Race Massage is a valuable asset to have at your race event (5K / 10K / 1/2 Marathon / Marathon). If your team already has race medicine covered, but still would like to bring in a sports massage race partner, let us know.
Contact and/or Non-contact Sports: Depending on the age, number of athletes, and type of sports, we will build a team to cover all of your needs. Please take a look at the list of sports in each respective subject group (Contact v Non-contact List).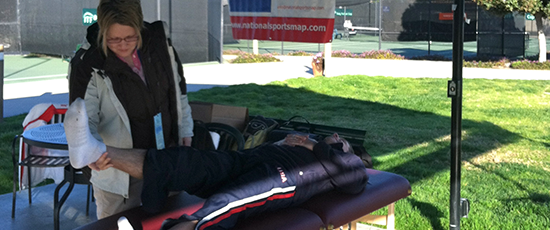 Example: Non-contact (Tennis)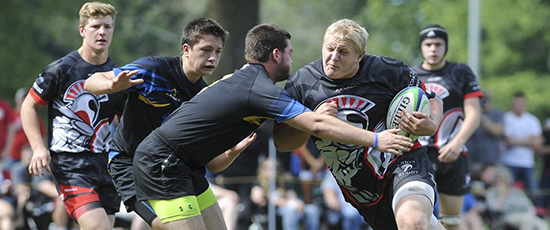 Example: Contact (Rugby)
Commitments we make for your athletes safety include but are not limited to:
Provide appropriate practitioners for the appropriate age group and event type
Ending sexual assault on any sport sidelines, locker rooms or event we work
Maintaining injury records and recording concussions
Provide immediate support for athletes and event organizers in event of a Sudden Cardiac Arrest or other medical emergency
Types of Services offered*:
Sports Massage Therapists
Physical Therapists
Acupuncturists
Automated External Defibrillator (AED)+
Certified Athletic Trainers
Emergency Medical Technicians
Sports Chiropractors
Where we work: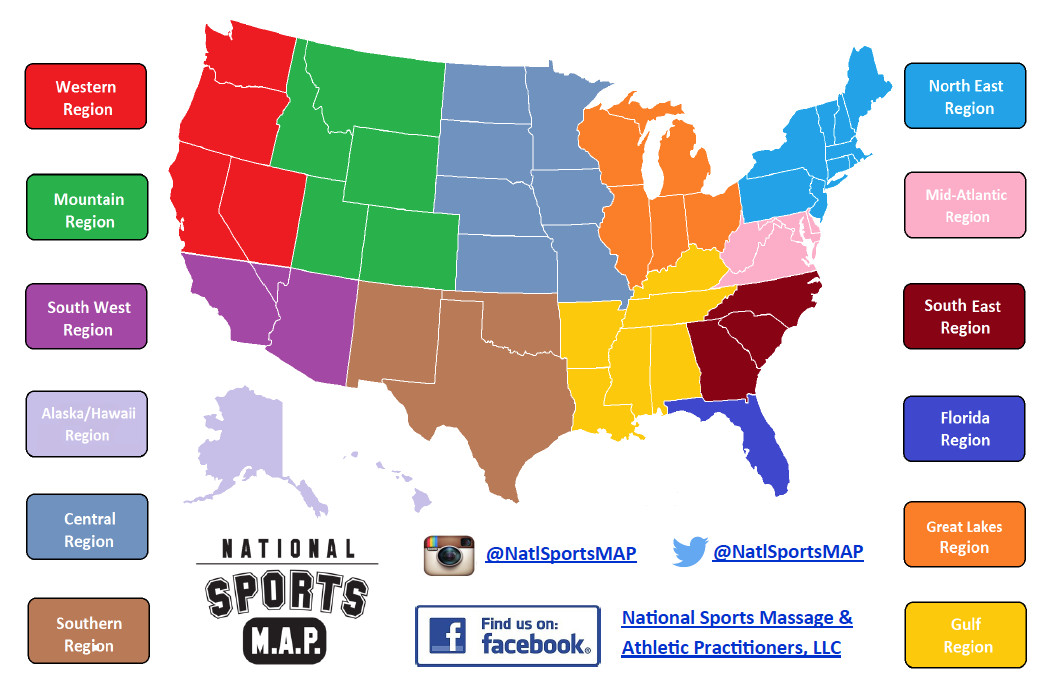 If you're with a Non-Governing Body, Convention & Visitor Bureau, Sports Commission, Sports Organization or Destination Marketing Organization, you want a sports medicine service provider like us on board to help book more travel sports tournaments and incorporate safety directly into the event sponsorship — increasing the value of your sports tournament!
Youth sports travel market is estimated at $7 Billion
A Community Beware Must Be A Community Aware!
Parents, coaches, Certified Athletic Trainers and other sports organization members continue to speak to create a paradigm shift in youth sports safety and we must work together to be the solution!
In 2018, the sports medicine community grew through the #sistersurvivor #warriors who chose to speak up in the #MeToo movement, against the worst child sexual predator in history.
Over 150 victims described sexual assault experiences performed at the hands of a "doctor" and "professor".
Parents. Coaches. League Directors. Athletic Directors. Teachers. Practitioners.
Speak up. Be present for your son or daughter, kids you coach or youth leagues you manage. Ask questions of your coach and athletic training staff. Acknowledge what's wrong and be fierce in your actions. Ensure that your child, and the millions of children playing sports, have exactly the right services and service providers they need to live a life full of brilliance, innocence and activity without the weight of confusion or sports sexual assault holding them down.
Sexual assault will not be tolerated. One practitioners offense is too many. Any practitioner responsible and any other practitioner involved in any form of child sexual predatory behavior or cover-up will be prosecuted to the full extent of the law (as applicable). No hands should ever touch another individuals genitals or individuals at sports events. This includes but is not limited to: inappropriate touching in private areas, massaging outside of client comfort level, inappropriate butt slaps and/or reaches, inappropriate frontal slaps and/or reaches, inappropriate touching of the chest,
Inappropriate kissing and performing "work" in inappropriate treatment locations. These locations might include: private back rooms, after hours, bathrooms, hotel rooms, basement or private area of house, storage closet, school or gymnasium facility, among others.
Victims Rights. We want every practitioner and person working with NationalSportsMAP.com to be confident in knowing that we will listen. If there is a bad apple, they will be removed. This won't be about pettiness, this will be about child safety and putting an end to sports assault and child sexual abuse in youth sports.
If you are a victim, please speak up. You can speak with an event or site coordinator. You may pull an ATC to the side. Our sports medicine practitioners will listen.
If you are a survivor, please speak up. Your voice needs to be heard and we stand with you.
If you are a practitioner who sees something, your voice matters, so speak up.
If you are a parent, coach, volunteer, referee, umpire, league director or otherwise responsible adult party, please speak up, ask questions and learn. Sports medicine is important for athletes to play safe but please remember you can always attain multiple opinions on an injury status.
If you work with a sports organization, we beg of you to stop hiring friends to ensure the athletes you support have the highest safety standards in the country.
Any questions?
Email: info@nationalsportsmap.com and we'll get back to you within 48 – 72 hours.
Remembering Matt Wanke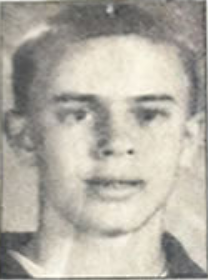 Our History: Remembering Matt Wanke Video
On May 6, 1997, Matthew Tennyson Wanke was playing hoops in a church gymnasium. He shot a 3-pointer, landed on his feet, then fell backward.
No automated external defibrillator (AED) was present on church premise.
Matthew's friends called 911 and emergency medical services arrived around 10 minutes.
Without oxygen to the brain, a patient is considered clinically dead after 10 minutes and the average ambulance response time is at least 10 minutes…needless to say, Matthew didn't make it. Matthew's sudden cardiac arrest is only one of thousands of SCA stories across the United States.
With this information in mind, isn't it fair to say that hiring qualified sports medicine practitioners and healthcare professionals is a reasonable request in order to make youth sport safer and save more lives?
Because we host the largest network of sports medicine practitioners and healthcare professionals that otherwise don't connect in the internet, our program allows organizations and event planners a leg up when planning their event safety.
We are available anywhere in the lower 48 of the United States for youth and adult sports organizations, race events, CrossFit competitions, non-profit walk-a-thons, sports fundraisers and church or community center recreation centers to secure sports medicine, race massage or race medicine services. (Alaska and Hawaii upon request and appropriate compensation packages.)
One-Time Event Submittal:
Step 1: Submit* the National Sports M.A.P.® Contact Form
Step 2: Confirm a consultation call time and date
Step 3: Confirm Invoice amount and complete deposit**
For best rates and partnership opportunities, please refer to the National Sports M.A.P.® Membership Application
*Read National Sports M.A.P.® Terms of Use prior to submitting form. **Deposit is a security and required to confirm practitioners attendance at every event, to be accounted for on the last day of coverage. +At minimum, one AED is always included in event sports medicine coverage. This fee will be identified in the event invoice.